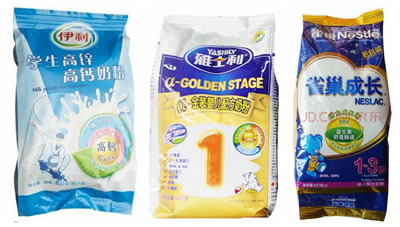 Product Introduction:
This product is suitable for packaging powder materials: milk powder, rice powder, starch, protein powder, soybean milk powder, sesame powder, milk tea powder, monosodium glutamate, salt, etc.
Performance and Features:
· Full computer touch screen control, human-machine interface, simple and convenient operation, simple product replacement, fault display system, easy and quick maintenance.
· The latest screw head is used for filling materials, especially suitable for powder with poor fluidity, with high measuring accuracy and fast speed.
· Spiral accessories can be replaced to facilitate the adjustment of packaging specifications.
· Servo motor is used to control the drawing power, making the drawing easier and controlling the bag length accurately.
· The horizontal seal is driven by servo motor, so that the operation is no impact, low noise, the opening stroke can be controlled at will, the sealing pressure can be adjusted at will, and it can be applied to all kinds of thickness and complex packaging materials.
· It can automatically complete rolling film bag making, material metering and filling, packaging bag sealing, printing date, and other optional functions including bag, European hook hole, hand holding hole, folding Angle, nitrogen filling, cooling, long bag, etc.
· With automatic alarm, such as material clamping, the door is not closed, film winding deviated, no film winding, colorless tape, etc.
Technical parameters
Equipment model

JS-320

JS-420

JS-520

JS-720

Pack the nose

JS-3AL

JS-3B

JS-3BL

Packaging range

10-500g

50-1000g

100-3000g

Packaging accuracy

±0.3-1%

Packing speed

20-50 bag/min

20-40 bag/min

Width of the bag

< 150

< 200

< 250

< 350

The length of the bag

< 200

< 300

< 320

< 450

The largest film width

< 320

< 420

< 520

< 720

The thickness of the thin film

0.04-0.08

0.04-0.08

0.08-0.12

0.08-0.12

Use the power supply

380v / 50Hz (Customized)

The engine power

3 Kw

3.7 Kw

4.2 Kw

5.4 Kw

Work pressure

0.4-0.6 Mpa

Gas consumption

100L/min

150L/min

180L/min

210L/min

The weight

350 kg

580 kg

730 kg

870 kg

Installation dimensions

1.2x0.8x2.1

1.5x0.95x2.5

1.5x1.16x2.6

1.8x1.3x2.8

Bag bag type

Back sealing bag (pillow bag), pin bag, self-supporting bag, even bag